19th November 2018
Today we went on a lovely walk through Cuttlebrook, looking for signs of autumn. Each group had a list of autumn items to find and tick off. We saw lots of lovely things and even found some toadstools. Miss Harvey told us all about the plants we could see as she is a gardening expert! Our favourite was the teasels.
Before we left we heard a message from Miss Oakley's alien friend, Nebula. Nebula had heard about our nativity performance and wanted to wish us luck with a very special gift. Unfortunately Nebula had sent the presents to the wrong place, but fortunately that place was Cuttlebrook, so we were able to look for the gifts on our walk! We founds lots of strange, squidgy, silvery rocks and we knew they were moon rocks! We are so happy that our moon rocks are going to bring us good luck. We did some fantastic writing all about our special moon rocks, thank you Nebula!
Today we also did a bit of science, team work, investigating and engineering. We needed to investigate together and decide on the best way to help Nebula get his broken down rocket over the canyon. We used a car as the broken rocket and two chairs as either side of the canyon. Each team tried many different ideas out, learning by trial and error to reach their final design. We've learnt, among other things, that soft toys, blankets and coat hangers don't make good bridges! Great job everyone!
Finally today, we got to paint our divas that have now dried out from Diwali day. They look so bright and colourful. They are the perfect size for a little tea light candle. Maybe you can use yours when you are saying your prayers?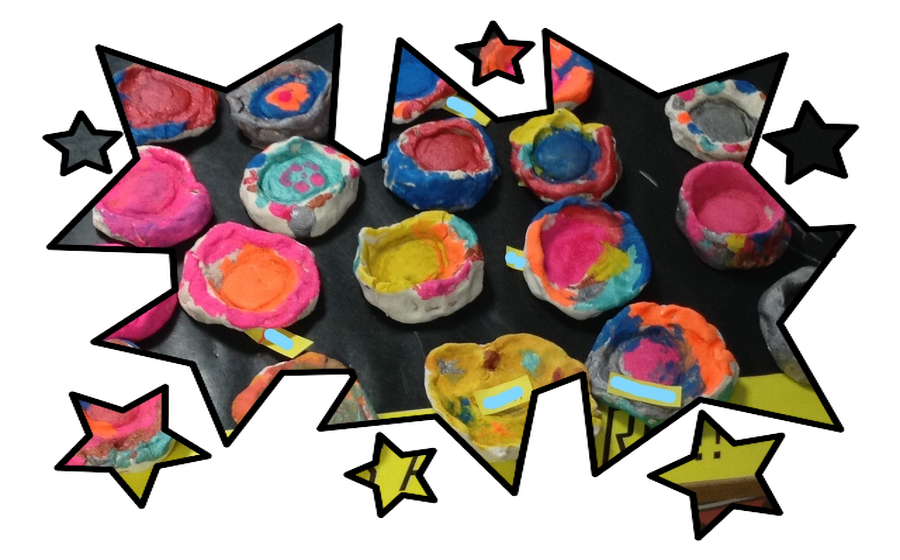 14th November 2018
Today we made some galaxies in a jar. We used paint, water, glitter and cotton wool to create the swirly, sparkly galaxy effect. Don't they look fantastic!?
7th November 2018
HAPPY DIWALI!
Today we had a day learning about the Hindu festival of lights called Diwali. We watched a cartoon that told us the story of Rama and Sita. We design mehndi hands, coloured rangoli patterns, role played the story with puppets, made and tasted Indian mango lassi, made divas that we will decorate next week and learnt a Diwali song. We even managed to find time to write about what we had enjoyed. Another fun filled, busy day in EYU!
Here is our song about Diwali to the tune of 'I'm a little teapot'. Enjoy!
31st October 2018
With our new topic of space we have been thinking a lot about aliens! We had lots of fun today creating our own dough aliens. They're really scary! Have a look...if you dare...
19th October 2018
In R.E. we have been thinking about people who care for us and in particular about weddings and how they are a special time where people can come together before God. The two people getting married ask God our Father to love and care for them. Many people get married because they want to care for each other and then care for any children they may have.
To help the children understand what happens at a wedding, we held our own today! In the morning we made some button hole flowers to wear to the wedding, just like real guests. We had a fabulous bride and groom and Miss Harvey took on the role of the priest. We went to church and learnt how to enter and exit properly, making the sign of the cross with the holy water and genuflecting. Our bride and groom had lots of support from best men and bridesmaids and they did a super job with making their promises to each other.
After the wedding ceremony we had a fabulous wedding reception. The bride and groom got to cut the cake and even had their first dance. After that the guests got to join in with the dancing and boy did they celebrate! A fantastic day was had by all!
15th October 2018
Today was superhero day! We dressed up as superheroes, made superhero handprints, baked Spider-Man buns (or cakes!) and made superhero cuffs. We sang superhero songs and did a superhero investigation! Wow! We need a superhero nap after all that excitement and learning. Have a look at what we did...
10th October 2018
We are now thinking about superheroes. We worked as a class to create this backdrop of a city at night. We then dressed up as superheroes in pairs. One laid down on the backdrop and pretended to fly through the skies, the other climbed a ladder (supervised of course!) and used the iPad to take a picture, then they swapped over. I think you'll agree the photos look great and it looks just like they are flying! Wow!
3rd October 2018
We have been hard at work on the laptops and computers creating some fantastic fire engines, inspired by our visit to the fire station. We are computing wizards!
TERM 1 CURRICULUM MAP... PLEASE TAKE A LOOK... IF YOU HAVE ANY QUESTIONS PLEASE FEEL FREE TO TALK TO A MEMBER OF THE EARLY YEARS TEAM. TERM 1 CURRICULUM MAP... PLEASE TAKE A LOOK... IF YOU HAVE ANY QUESTIONS PLEASE FEEL FREE TO TALK TO A MEMBER OF THE EARLY YEARS TEAM.
24th September 2018
Wow! What a day we had at the fire station this morning! We met two firefighters who told us all about their very important job. We learnt lots of amazing facts, like the fire engine holds 1800 litres of water. We also learnt how to keep safe. We now know to test our smoke alarm and get out quickly and shout 'fire!' when we hear it. We know to stay low and avoid the smoke too.
We all got chance to sit in the fire engine, look at all the cool equipment and we even got a chance to use the hose. Miss Harvey got dressed up as a firefighter. We counted to see how long she took. She was fast, but not as fast as the actual firefighters. Don't worry Miss Harvey, you just can't do it quickly YET!