Tuesday 26th June 2018
Henry's Wives poetry
This term, Year 4 have been learning all about Henry VIII and his wives. They completed some fantastic research about these interesting people and have learnt loads! They used what they had learnt to write and perform poetry about each wife, focusing on using rhyming couplets. We had a competition for the best poem and here is our resounding winners!
Well done to Olivia, Sam, Gabi and Louis for your excellent poetry!
Friday 16th June 2018
Hampton Court Visit
On Wednesday 13th June, our class went to Hampton Court Palace as a school trip. Hampton Court is impossible to forget, I had such fun learning more about King Henry VIII in a way that cannot be beaten by any other lesson! There are cheeky little eavesdroppers hiding in wooden beams of the ceiling in the great hall. It really is great!
Wow! Whatever to say next? There's a gorgeous chapel full from top to bottom with stunning tapestries and interesting things you never thought existed! You can stand above a beautiful alter, not the sort of alter you find in any church, I mean a proper alter for coronations and really important things that Tudor royalty had to attend.
When your eyes meet the garden, you'll never want to go back inside! There trees were in all shapes and sizes. Flowers like roses, heathers and buttercups were spilling from garden to garden. Be extremely careful of the fountains and lake because it is covered in pond weed that looks a lot like grass! Make sure if you have little ones, they stay away!
Written by Alexa.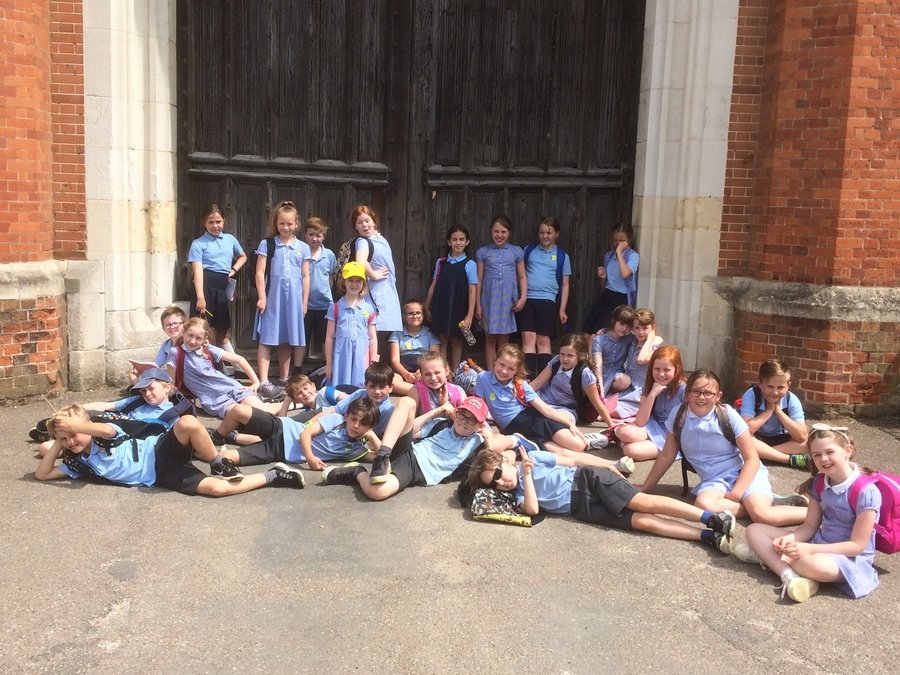 Thursday 24th May 2018
Tudor Banquet
On Wednesday 9th May, Year 4 travelled back hundreds of years to experience life during Tudor times. As part of their homework, the children were asked to research, design and make their own costumes and what a fantastic array of costumes we received! Everyone really took up the challenge and we could not believe the effort that was put in to create such amazing costumes!
We started off the day with preparations for our Tudor banquet. The Year 4's (rich) made white bread whereas the Year 3's (poor) only made measly rye bread. Year 4 then went on to design their own Tudor style plates, with intricate designs and bright colours.
As the banquet began, the children were taken through their paces with the slow and elegant dances of the rich, and then the lively frolics of the poor. We could not believe how they would have danced the night away – they must have been very fit! The Year 4's then watched as the poor Tudor's set up their banquet, table decorations and all. They loved the food and really got into character!
Monday 17th April 2018
Tudor Times
From exploration and execution to religious conflict and conspiracy, the reign of the Tudors is a fascinating period of British history. We will be learning about Tudor buildings, how the rich people lived and the war that started the Tudor period. Then we will be making a comparison between life today and life in Tudor times.
In literacy this term we will be delving into history to learn about one of Britain's most famous writers – William Shakespeare. We will be starting off the term by writing a biography about the man himself so get ready and get reading, let's see how much you can find out!
http://www.bbc.co.uk/schools/primaryhistory/famouspeople/william_shakespeare/
https://www.theschoolrun.com/homework-help/william-shakespeare
http://www.shakespearesglobe.com/playground/exploring-shakespeare
Friday 26th January
Sports and Well Being Week
We have had great fun this week learning about staying healthy. We started the week with a science session focusing on germs and how to stop them from spreading around our classroom. We also tried some new sports such as yoga, table tennis, street dance and human rock, paper, scissors. To top it off, Mr Anderson came in to show us some running and fitness skills, we were exhausted!
Throughout the week, we have also been learning about the skill of writing sports commentary and have done some research on American Sports, linking to our USA topic. To end the week, we all took part in a sponsored circuit with the athlete, Luke Lennon-Ford. We even had two members of our class, Alayna and Oscar, act as helpers during his visit. They did a fantastic job and even earned themselves a free wristband for their hard work.
In all, we've had a very busy week, but boy did we enjoy it!
Monday 4th December
Reading with your child
Reading with your child is a fun way to spend some time together. Your child will learn from you how to enjoy reading at the same time as it helps them to develop a wider vocabulary and an understanding of writing and spelling.
Their imagination and creativity will grow as you share stories with different settings and characters; they will learn about different places, experiences and how people might feel in different situations.
If you would like some more guidance to support your child in their reading journey, have a thumb through this document.
Friday 1st December
Maths
Today we've been exploring multiplying and dividing by 10/100 using place value. Try using this site to help practice these skills. https://mathsframe.co.uk/en/resources/playgame/60
Friday 1st December
Roman Army Marching
This week, Year 4 have been working hard on their legion formations. The entire foundation of Roman infantry tactics were based on the idea that keeping troops in order would help them fight more effectively.
We still have a little more practicing to do before I think we'd qualify for the Roman army but we're getting there!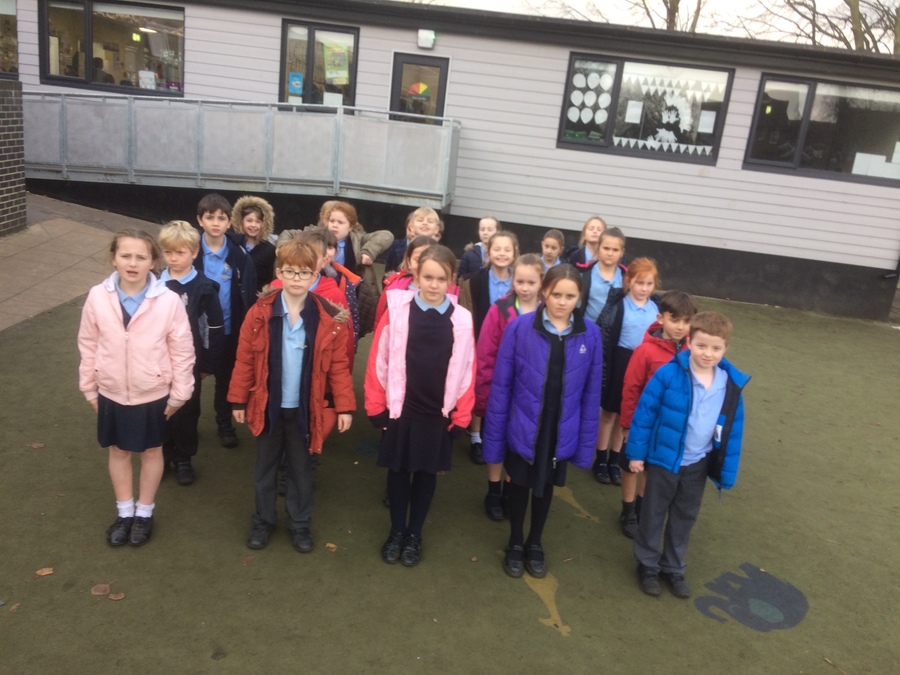 Friday 18th November
Roman Shield Making
In Year 4 we have been making and designing Roman shields this week. To start with, we made a plan on paper, where we drew our shield and thought about the materials we would need to make them. Then we started to collect the materials we needed. We made them out of cardboard, tin foil, paints and other materials. When we finished our decorating we took a picture and pretended to be roman soldiers.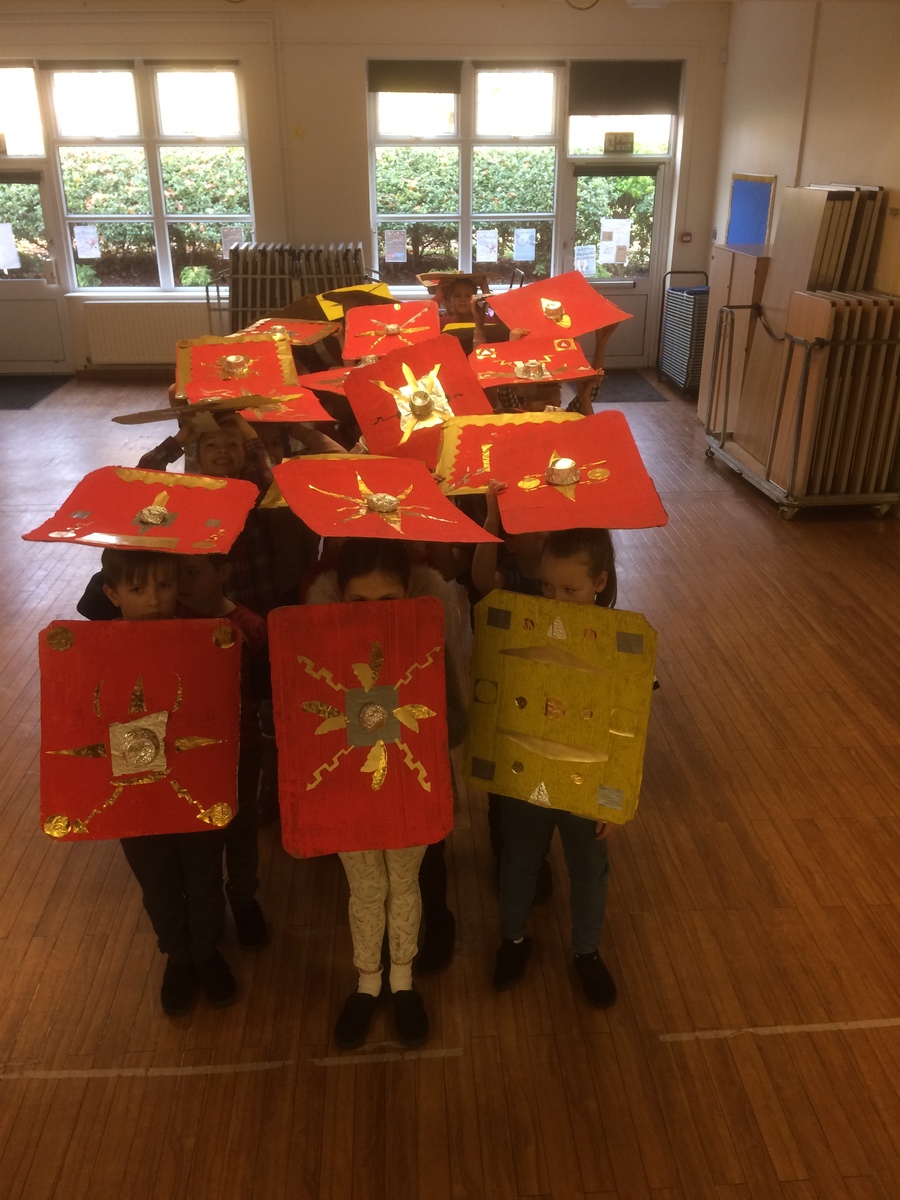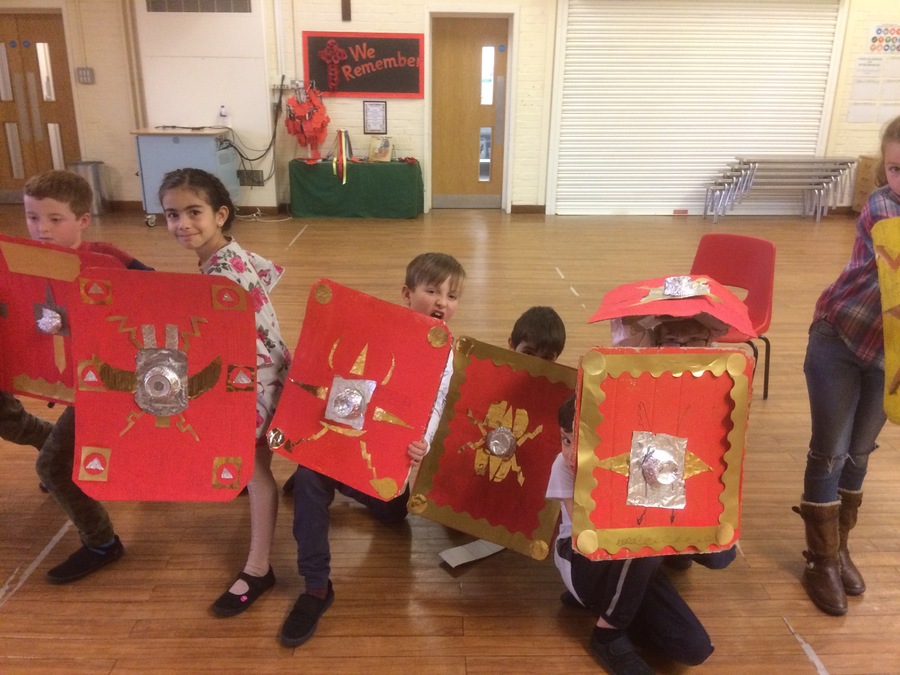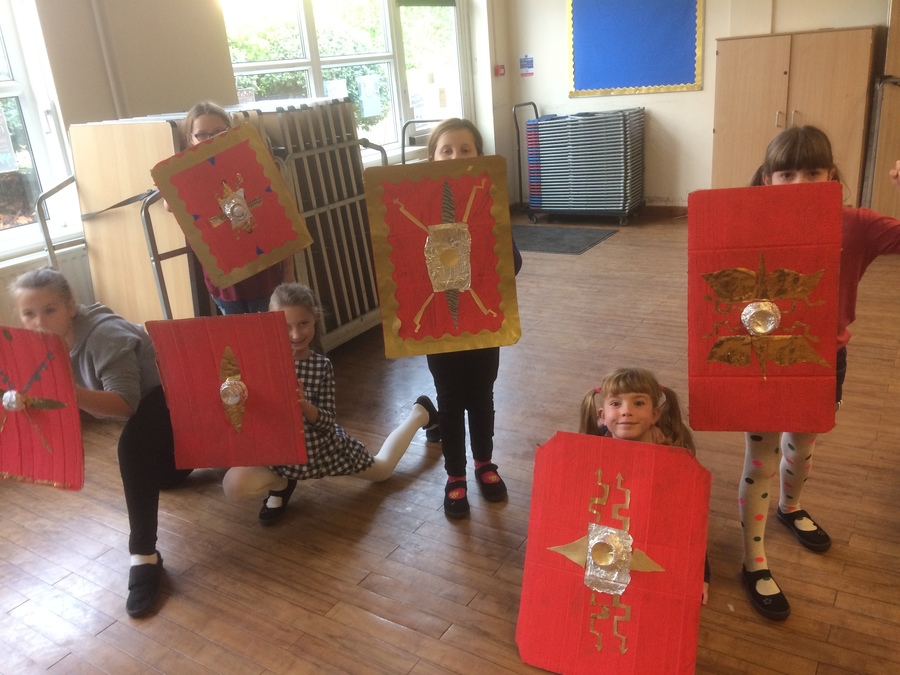 Thursday 19th October
Maths during Term 2
Next term in our maths lessons we will be placing a big focus on multiplication and division. We will be concentrating on recalling multiplication and division facts to 12x12 and multiplying two-digit and three-digit numbers by a one-digit number using formal written layout.
It is important for your child to be able to recall both multiplication and division fluently, as this will help their understanding and confidence when using written methods. We would like the children to be practicing these multiplication and division facts at home; a small amount every day goes a long way!
Click on the links below for some games and activity ideas to have a go at.
Friday 13th October
The Stone Age
This term Year 4 have really thrown themselves into the life of Stone Age people. We've researched all about Stonehenge, created fact files on the Ipads using pic collage and even made our own Stonehenge models using salt dough (we never miss an opportunity to make a mess!)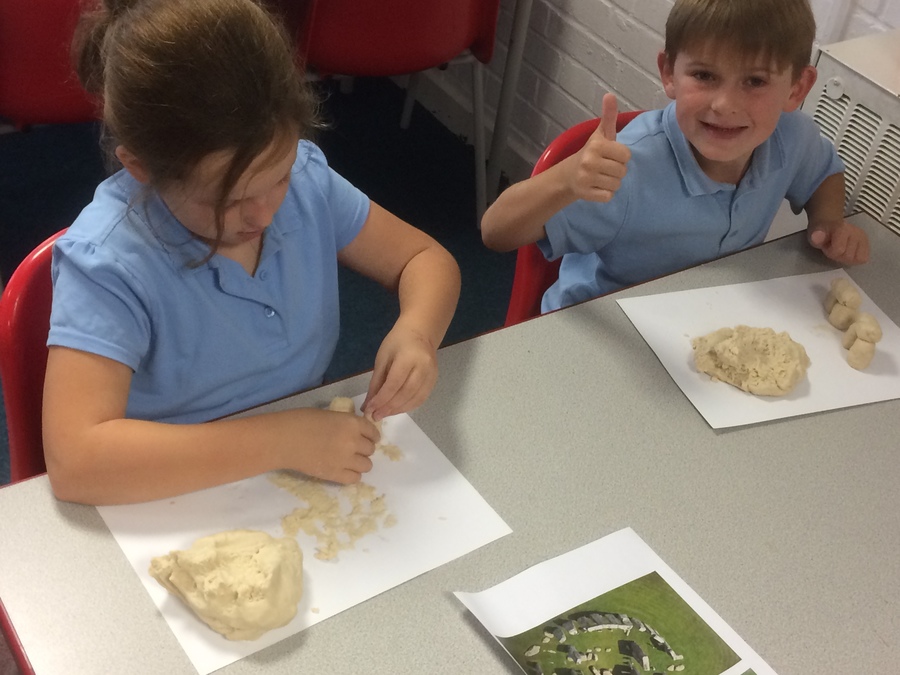 Friday 13th October
Cave Paintings
This week we have been exploring the artistic skill of the Stone Age people by looking at cave paintings from the past. We then used a mixture of charcoal and oil pastel to create our masterpiece. Scroll down and have a look!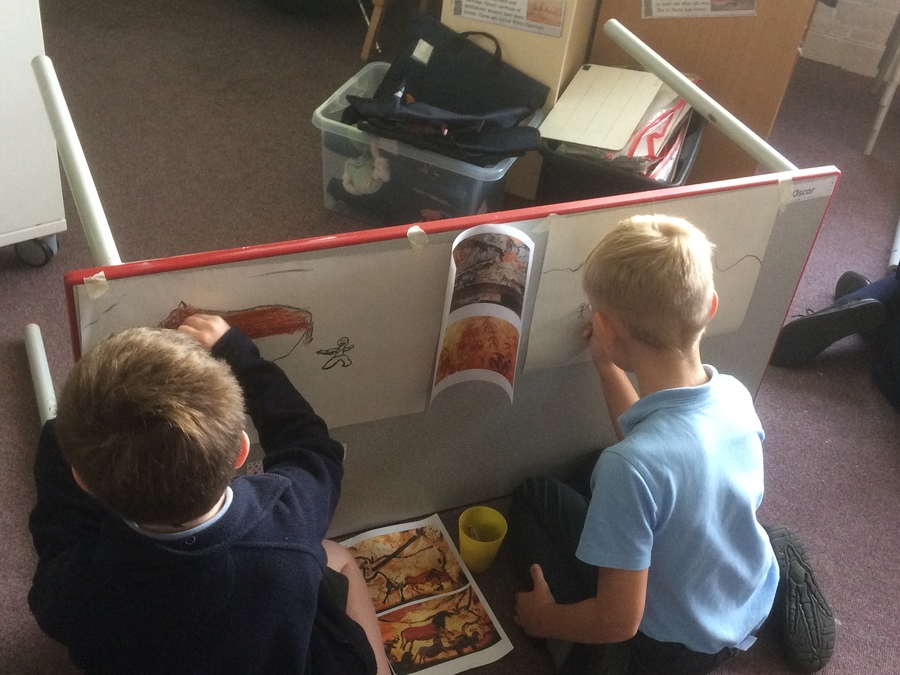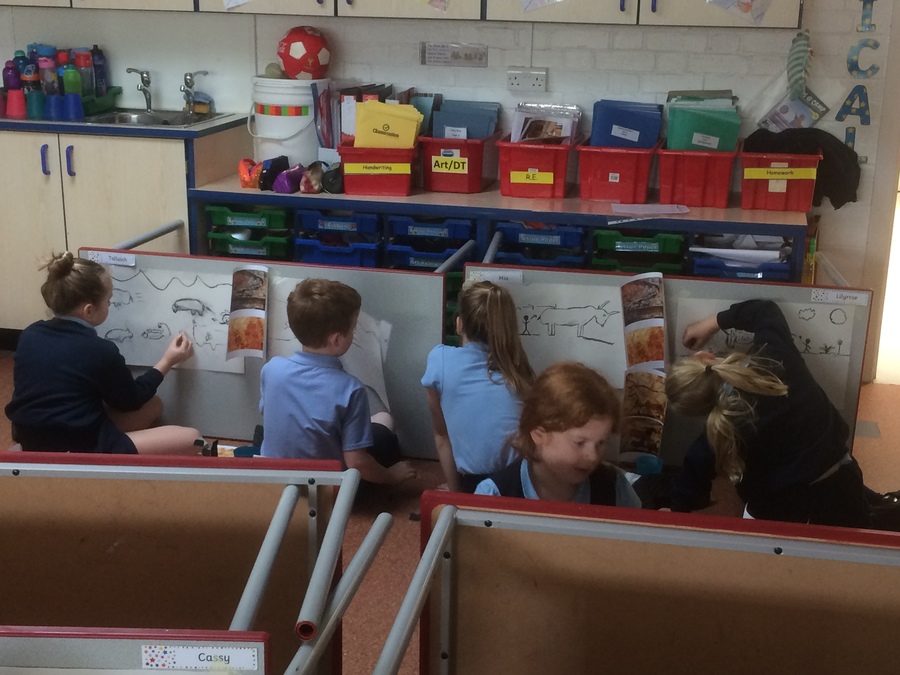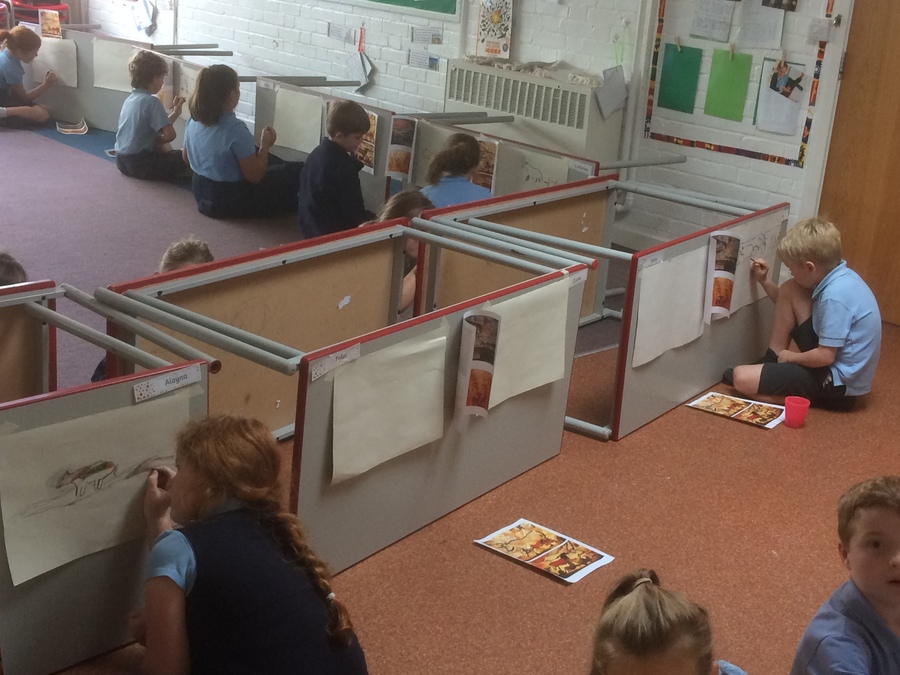 This week in Year 4, we have created some colourful, complimentary doodles that advertise our unique personalities. If you want to see more, visit our classroom to see what good artist's we are. In Year 4 we have really enjoyed a fun start to the year, such as drawing, team building games and getting to know you activities. An excited Susy said "I am excited about the art throughout the year."
On Friday 8th September we received a mission from Miss Dyer. Our job was to write a blog about what each class in the school was up to during the first week of the year. We loved being roving reporters and interviewing the children about life in school. Have a look at the other class pages to see how we got on!
Felicity, Year 4, said "I feel excited about the P.E. and the year ahead."
- September 2017