School Lunches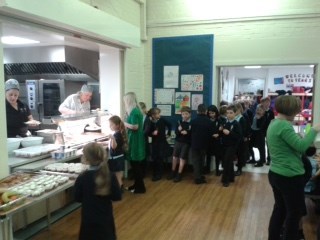 School Lunches are cooked on site in our brand new school kitchen. Lunches are free for all children in Key Stage One (EYU - Y2) and cost £2.10 per lunch for children in Key Stage 2 (Y3 -Y6).
MENUS
Lunches run on a three-week rolling menu, which will change throughout the year. Menus can be seen by clicking on the link below:
Allergens - April to July 2017
Menu - September to December 2016
Allergens - September to December Menu 2016
LETTERS
Term 3 Letter (Jan - Feb) 2017
Term 2 Letter (Oct - Dec) 2016
ORDERING LUNCHES
Lunch orders should be placed no later than 9.30am on Thursday mornings for lunches the following week. Please order termly if possible.
If you would like to order lunches for your child, please log on to the School Gateway using this link:
https://login.schoolgateway.com/0/auth/login
Please clearly indicate in the comments box the dates you would like your child to have lunch. The minimum payment is £2.10 per child.