Early Years
w/c 04/11/19
It was great to see the children back after the half term break...and we have all been raring to go! The children have been adding to our working wall by being 'e,e,e, experts' at writing the letter 'e'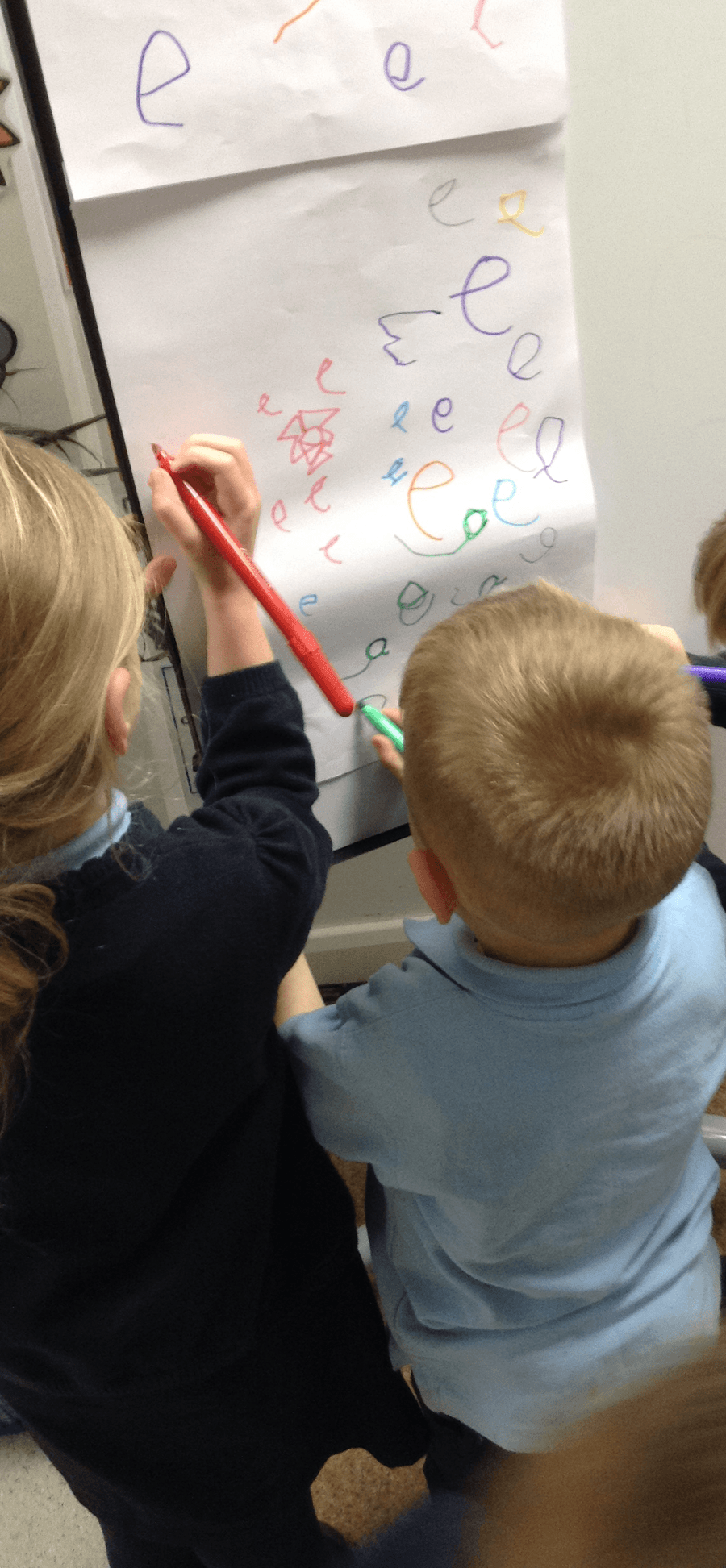 On Friday we found out lots of information from Firefighter Steve during our visit to Thame Fire Station. It was great fun climbing up carefully into the fire engine. We learned lots about what firefighters do and the equipment they use, and how they play their part in building our caring community. We loved seeing Miss Harvey get dressed up in the fire fighter's uniform - it was very heavy but we found out how it protects firefighters and keeps them safe. A big thank you to the mummies who came along to help us.
w/c 14/10/19
Following the excitement of wishing Miss Dyer off on her nuptials this week, we also held a wedding in EYU. The children dressed in their finest clothes and we set off to church for the ceremony. Much fun was had by all as we feasted on popcorn and wedding cake and learnt about this special sacrament that takes place in church. Thanks for all the wonderful support and organisation from the parents too!
w/c 07/10/19
Number formation fun was had by all this week! We used lots of different methods to help us practise forming 0, 1, 2 and 3. We used the following number rhymes if you'd like to use them at home too:
0- Circle left and round you go, round and round it's number zero!
1- Start at the top and down you run, one straight line it's number one!
2- Make half a heart, give it a shoe, top to bottom it's number two!
3- Half round a tree, half round a tree, curve it, curve it, it's number three!
These rhymes and their pictures to accompany can be seen under the clock in the classroom, please feel free to come have a look!
w/c 07/10/19
Our Forest School group had great conker fun this week. Why not try it yourself at home?
Oh No! Tinker Thinker's car can't get across the river! Enter our EYU construction teams... The children worked together, sharing ideas, communicating and listening well to design a bridge using ANYTHING they could find. After this they were also challenged to design a bridge that would support a toy car using dough, spaghetti and pasta. Everyone worked really hard and just like Moaty Motivator they were great active learners; keeping on trying, concentrating and enjoying achieving what they set out to do.
w/c 30/09/19
This week in forest school a village of little people was visited by a dragon, who knocked all of their houses down! Our kind little lot couldn't stand the thought of that, so they worked in pairs or individually to create new homes for the villagers, using any natural materials they could find. They did a brilliant job and the villagers were EXTREMELY grateful. Miss Harvey was blown away by the enthusiasm and care of the children; imaginations were running riot!
w/c 30/09/19
The children enjoyed creating buildings using paper shapes. Some made houses, churches, castles etc. They did well talking about the shapes, including names and sizes. We hope to pop these up in the cloakroom soon, so please do have a look at your little one's creation.
w/c 23 September 2019
This term's Forest School group enjoyed a muddy, mucky, yucky experience with Miss Harvey this week. Lots of smiles and learning!
w/c 23 September 2019
The children had enormous fun this week investigating materials. They felt materials in a mystery box and had to describe them. They used natural materials as paintbrushes. They were even detectives finding examples of different materials in class! Wow!
w/c 23 September 2019
Some of the children enjoyed getting creative outside this week and made up their own games. Some enjoyed throwing balls and bean bags into given colour or shape targets, whilst others enjoyed some café role play. They helped Miss Harvey to sound out 'Café Open', laid out the food for sale and made the customers park their vehicles in the bays before coming in. What a busy day!
September 2019- The children had great fun completing a STEM activity. They had to design, make and test an umbrella to keep Tinker Thinker dry. There were lots of great ideas, some trial and error, but no one gave up and they did a great job! They then got to test out a larger shelter with Tinker to see if they all stayed dry. (They did! Phew!)
18th September 2019- Our first group of children enjoyed their Forest School session with Miss Harvey today. Fun was had by all and they can't wait to go again next week.
September 2019- We have been absolute super stars these first few weeks! Miss Oakley and Mrs Horner are really proud of us. Look how much fun we've been having whilst learning lots of new rules and routines. We've enjoyed making friends and can't wait to see what else we will learn!
August 2019- Flashback to our taster sessions in July. The children were already doing so well, we can't wait to get started with more fun and learning in September. Remember to bring those smiles back with you!