Year 3
My Family Coat of Arms Homework
This week we have been celebrating Unique Week! As every family is unique, we would like you to think about how your family unit is special and we have asked the children to design and create their own coat of arms which reflects their family. We would like to create a display outside the Year 3 and 4 classrooms to showcase what makes each of our families different.
Think about:
Do you have links around the world?
Do you have a favourite place you go as a family?
Do you have a favourite activity you do as a family?
Do you have a favourite family meal?
Do you have an interesting family history?
Feel free to include family members, including pets!
Enjoy showcasing everything that makes your family unique!
To be handed in: Friday 6th March 2020
Football Coaching
This term we have been very lucky to have specialist football coaching as part of our lessons. Over the weeks, our stamina, skills and sportsmanship have all improved immensely!
Bronze Age Roundhouses
This week Year 3 have been learning about Bronze Age Roundhouses. We started by looking at the structure of these building and comparing the structure to that of Stone Age houses. We then looked at the set up of Bronze Age settlements and created our own. Thank you to Mrs Hanson for leading the creation of our settlements.
Force and Magnets
This term we have started our new topic: Forces and Magnets. We started the term by looking at how forces effect object as a push and pull motion. We created our own freeze frames of pushes and pulls and created our own posters about the different movements.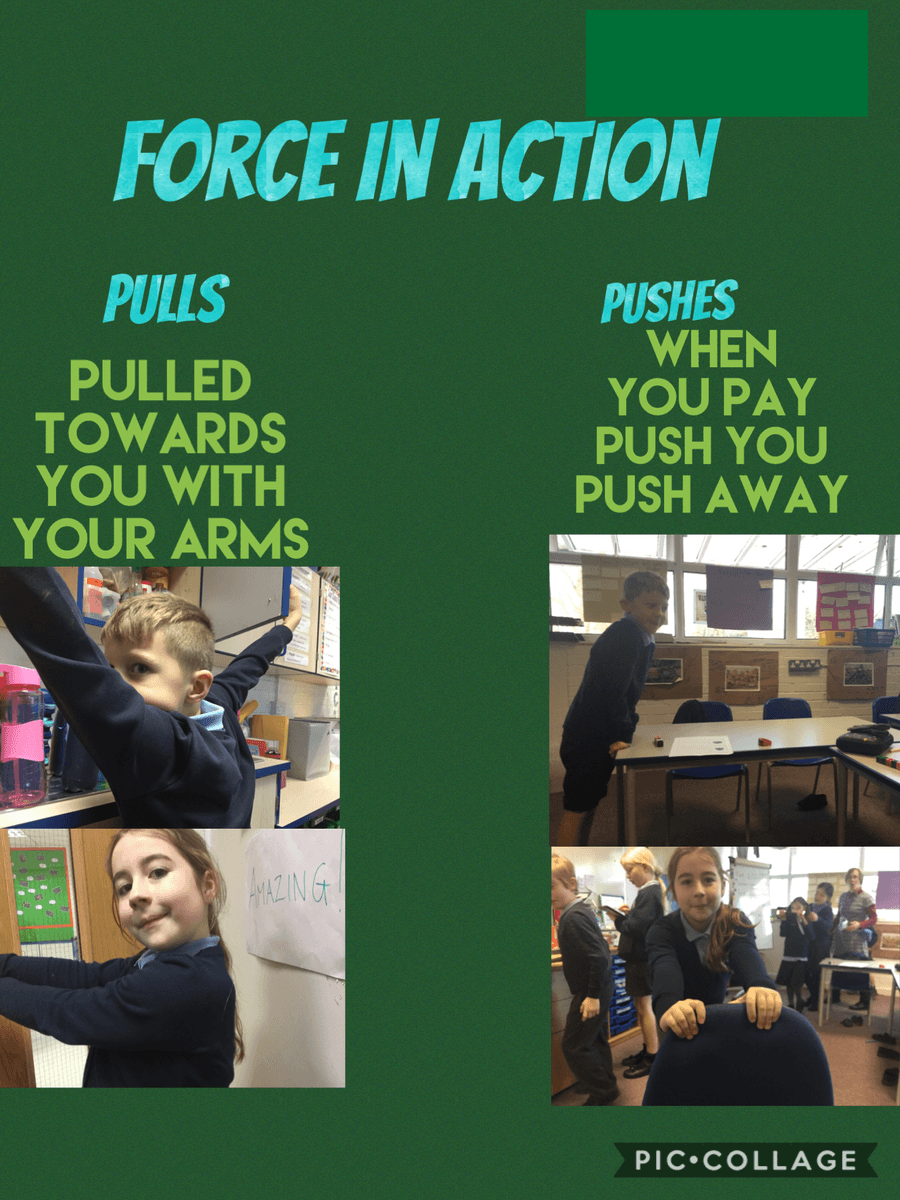 Stonehenge Day!
As part of our Stone Age topic, we have taken part in a Stonehenge mini-project. We started off the day by mixing up our Year 3 and 4 classes and split them into small groups. As a group, they worked together to research Stonehenge using lots of different sources. They then created a PicCollage aimed at Year 5/6 pupils to teach them about Stonehenge. It was great seeing our year groups sharing their learning with each other!
Then we set them their final STEM challenge of 2019. They were set the task to create their own Stonehenge structure out of biscuits.
It was not an easy task and every group really had to work on their teamwork and perseverance.
Forest School - Stone Age Art
To build on the Cave Painting that Yr 3 explored at the beginning of term, our Forest Schoolers took their skills outside to use the environment around them to create more advanced artwork. See how they got on!
Stone Age Research
We have been finding out more about the Stone Age times by looking into Stone Age animals. The children undertook their own research and organised their findings into posters using the PicCollage app.
Stone Age Cave Paintings
As part of our Stone Age study we've been finding out about ancient artworks. Have a look at what we created!
Take 2 - Matt Brown
Last week Year 3 and 4 were visited by local author - Matt Brown. As we are sure you are aware, we read his book 'Compton Valance' later term! The children thoroughly enjoyed sharing his books and finding about top tips to becoming an expert writer! It has certainly inspired our children to read more of his books.
New term. New challenges
Welcome to the Stone Age. This term we will be finding out about the Stone Age, before moving onto the Bronze Age and ending with the Stone Age. This has really sparked our interest and we are looking forward to what the next few weeks brings.
We have also been very lucky that Ms Harvey will be back working with our class for Forest School and half of our lovely Year 3 class started today. Take a look at what we got up to!
Harvest Poetry Slam
To build on our Harvest Mass celebrations, our Year 3,4, 5 and 6 classes got together to have an inter-house poetry slam. The children grouped together in their houses and worked in teams to write a harvest themed poem. We then got together and performed our poems. It was great to have Year 2 join us for our performances and we got to hear some great poems that they had been reading!
Electricity
Today we have been exploring how circuits work. We started by creating a human circuit, which allowed the electricity to pass through our held hands. We then worked in pairs to create complete circuits that lit a light bulb and explored different circuits to see whether they were complete or not!
Building Bonanza
Over this term, all of our KS2 classes will be taking part in a series of building challenges. They will be split into mixed teams and sent off on a construction mission. Have a look at the photos to see how they got on!
Let's get mathematical!
To try and be as active as possible in the school day, we have been doing some BIG maths by creating 1-1000 number lines across the hall. Some teams were very methodical and grouped the numbers into hundreds, others took the 'organised chaos' approach. All groups managed to make their number lines in the time provided and we had some great discussions about place value along the way!
New Year, New Start!
Wow! What an amazing start to the year! We have kicked off our year by learning all about Growth Mindset. We were set the challenge of building a card castle to see how determined we could be. Have a look at how we got on!