Year 5
September 2020
World War II - Topic Web Term 2
BBC Super Movers - Help to learn your times tables through singing and dance
18/12/2020
Merry Christmas from the Year 5 pupils and Mr Neal!
18/12/2020
Over the last term, in Design Technology, the children have worked hard on designing and making miniature WW2 Anderson shelter models. After much refinement, the final models look brilliant!
10/12/2020
Over the past week Year 5 have continued to work very hard. We have explored poetry in our English sessions, looking at a variety of war time poems and are looking forward to constructing our own. In maths we have continued to look at the perimeter and have moved on to looking at the area of shapes.
The children have also finished their DT project with Mrs Bull of making their own model Anderson Shelters. They look amazing as I am sure you will agree!
One of our focus' in PE this term has been leadership and that has culminated in the children (working in small groups) designing and running their own PE activities. Finally, in RE we have moved on to looking at the Christmas story and in particular the story of the 3 Wise Men (or Magi) and their interactions with King Herod.
09/11/2020
We are very excited this term about the prospect of learning about World War 2, our new book, 'Letters from the Lighthouse' by Emma Carroll, has ignited our sense of intrigue... Last week we focussed on the outbreak of war, what caused it, the main powers involved and the geography of their countries. This combined with the prospect of building our own model Anderson shelter in DT has meant we have made a flying start.
In Maths we have begun our new topic looking at multiplication and division and the children have been showing off their factors and multiples knowledge all week!! In RE we have started looking at the miracles performed by Jesus and in small groups, the children have all become experts in a different miracle.
23/10/2020
It was great to be joined by Ms Gowers last week so we could celebrate the children's recent successes, both for school achievements and those who participated in the recent cycling activities. Well done all!

This week Year 5 have been focussing on biographies; we have learnt what a biography is, how to vary our sentences in order to keep the reader interested and written our own. The children have loved conducting research in order to contribute to a class collection of biographies, based around a variety of famous people who have helped to shape our world.

In Maths we have moved onto looking at tables and comparing data, so if you are venturing out over half term, do catch the bus as I'm sure the children will be able to help you!

This week brings to an end our first term as the new Year 5, probably the most challenging term they have had and may ever have in school. However, they have all (well most!) come out of it smiling and we can all be very proud of that!
15/10/2020
Another exciting week in Year 5.

We began the week with the continuation of our literacy topic based around Beverly Naidoo's book, 'Journey to Jo'burg'. We have loved exploring the history of South Africa and have been on a real journey with Naledi and Tiro (the book's two main characters) and I know they feel like genuine members of our class at the moment. The children worked really hard constructing a diary entry talking about like in 1980's South Africa and have even produced some of their own identity cards (Mr Neal was having far too much fun tea staining them and forgot to take any photos).

In Maths we have looked at fact families and the inverse relationship between addition and subtraction, we were even allowed to write ON the tables! We also have begun to look at statistics and we carried out some fruit pastel maths and used them to draw bar graphs, tally charts and pictograms.

In RE we looked at the Beatitudes of Jesus and The Sermon on the Mount. Some of the children have made spinners to help them remember whilst others wrote beautiful prayers. In coding this week we have finally begun to design our own games thinking about incorporating all the skills we have learnt across the term so far.

We look forward to the culmination of our South Africa topic next week where we will finish by looking at the life of Nelson Mandela and then say goodbye to Naledi and Tiro.
02/10/2020
This week in Year 5 we have really knuckled down. We began to look at a new book 'Journey to Jo'burg' written by Beverley Naidoo. The children have been fascinated by a story from another culture. They have shown off their inference skills by predicting what the story will be about and we have enjoyed reading it together chapter by chapter.

In Maths we have begun to look at some addition problems and solving large number problems using a formal written method. Again the children have impressed me with the work ethic and ability right across the board. We also enjoyed looking at Jane Goodall in Science and looking at how she spent many years living with and observing Chimpanzees in Tanzania, many of the children have been home and watched some further videos in their spare time!

Finally, the children have been showcasing their computing skills in our coding lessons every Thursday. We have been looking at techniques and skills required to begin coding our own game in the next few weeks. Remember you can still access PurpleMash from home and all the children's work is saved in their own folders which they can access. I'm sure they would love to show you what we've been up to.
17/09/2020
This week in Year 5 we have been working extraordinarily hard. On Monday the children got stuck into our first science topic of the year, 'Living things and their habitats'. We used the opportunity of the good weather to go outdoors and look at some different parts of a flower, then upon returning to the classroom we dissected the head of the flower. We discovered multiple different sections and in particular looked at the male and female parts of a flower.

We have also been budding news reporters this week, we chose our favourite 'Blue Planet' clips and create our own news bulletin based upon these. We researched our own interesting facts to add to the bulletin and then had to write a transcript to read aloud.

We had a successful PE session where we began by looking at different tactics we could employ for some invasion games and Mrs Bull joined us for a music lesson looking at different music around the world.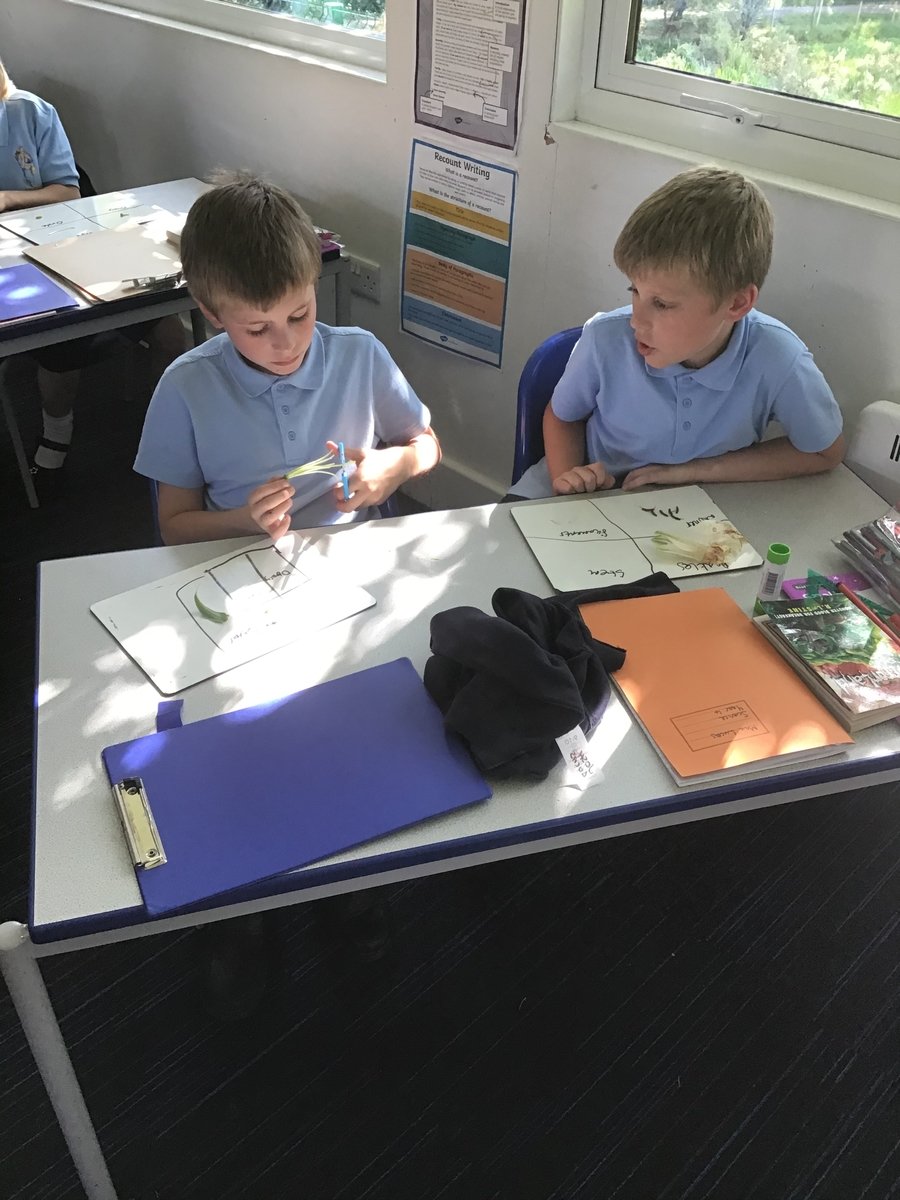 11/09/2020
It has been a very busy start to life in Year 5 this year! At the end of last week we jumped straight in (almost literally in some cases). The children were tasked with building a boat that would support 25 pennies. An easy task you may think, however the children were only allowed 3 paper cups, 6 plastic straws, 1 sheet of cling film and 30cm of duct tape. We had a multitude of different designs but ultimately we had four successful vessels! The children also took great joy in watching Mr Neal's pre recorded video of him attempting the challenge and only managing to get 4 pennies on before his boat toppled over.

On Monday the children were given their second problem. They had to create a car that was powered only by the air inside a balloon. Children were given some wooden dowelling, 3 straws, 1 piece of corrugated cardboard and a balloon. Unfortunately we were less successful with this as only 2 cars moved off the start line.

These activities were great ice breakers for the children to get back into school and they have moved seamlessly into the rigours of 'the new normal' schooling. They have written some wonderful letters to people that they believe are special to them that we hope to share with you in the near future.