Our Parish Priest is Father David Hartley.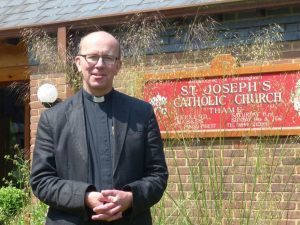 Parish Bulletin Page 2 - Mass Times
Children's Liturgy Resource 21 Feb 2021
I hope Lent has begun well for you. It was great to be able to administer the ashes to so many on Ash Wednesday and I am hoping people will feel more and more confident to start coming back to mass- still within our limits of spacing, and with a limited number. Looking ahead to Easter we will have to think how best to allow as many as possible to join in here in person.
Every blessing for the season ahead, Fr David
For more information, this is the link to the Parish Website : http://www.stjosephsthame.org.uk/?LMCL=aaZ4pV
The Parish email address is stjoseph.thame@rcaob.org.uk
MAP OF THE PARISH OF ST JOSEPH'S THAME